This is the Covid test site in the car park round the corner from my parents' house.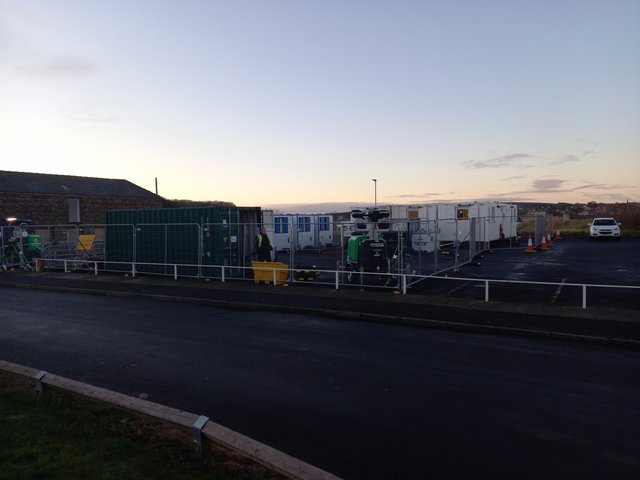 You may be able to make out a bloke in a hi-viz vest, I've cropped it so you can see him a bit more clearly here.
I'm assuming he was some kind of security monkey and he took great exception to me taking photographs of the place. The picture above documents the beginning of our hilarious altercation. Apparently I wasn't allowed to take photos because it was a 'government site' until I pointed out he was working for a private company, then he switched to 'patient confidentiality' until I made him aware that there were in fact no patients there, just him. He then called me 'fucking weird' for wanting to take pictures in the first place and demanded I delete them. After that it quickly descended into a most enjoyable bout of verbal jousting consisting almost entirely of swearing and abuse where I goaded him to come out from behind the fence and try and take my phone off me. Eventually my brother, who had been watching all this with amusement from a distance, joined me and my adversary quickly retreated back into his shipping container.
I'm not exactly proud of my behaviour during this encounter but he was an absolute dick. I've no doubt he was probably bored out of his skull but if he'd been polite in the first place none of it would have happened.